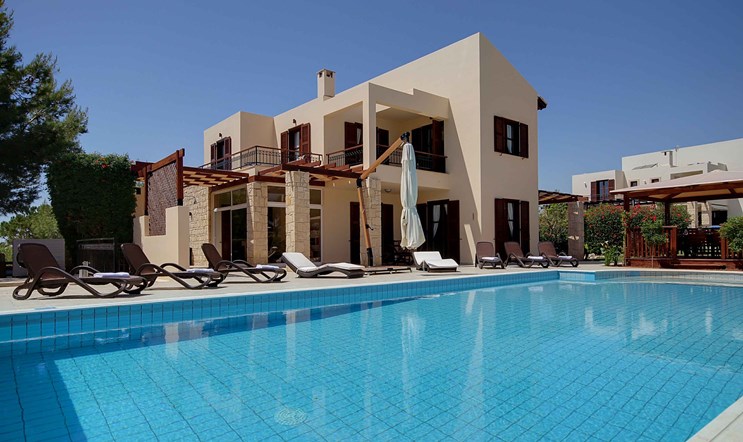 Avid A Place in the Sun watchers, Michael and Sarah, have travelled all over the world but now with two sons (aged 9 and 13) they've decided they'd like future family holidays to be spent in a second home rather than hotels. Here Michael tells us their story so far…
Can you tell us a bit about yourself and why you began looking for an overseas home?
We are originally from the UK but have lived and travelled all over the world.
We are now happily settled in Canterbury, Kent with our two children Robert and Adam where I work as a chartered accountant and Sarah as an industrial pharmacist. Our jobs often require us to work long hours so the idea of having a home somewhere warm to escape to has always been very appealing.
We were tired of forking out large amounts for a two week holiday in a hotel or rental villa, so we started to look into how feasible it was to buy a holiday home for ourselves and to rent it out when we weren't using it.
What was it about Cyprus that captured your imagination?
We had been to Cyprus twice on previous holidays and had fallen in love with the island, its people and the atmosphere – all this made it seem like a sensible place to start looking! After that we began researching properties and the buying process (including attending A Place in the Sun Live exhibitions).
Our search was focused on
Paphos
and its surrounding areas because it seemed like the most suitable location especially with its easy access from the UK. Almost straight away the
Aphrodite Hills resort
became our favourite – it's well developed, well run, profitable and has all the amenities that anyone could ask for. Personally, I think it ranks up there with most American golf estates following the same concept.
So what did you decide to buy?
We bought a four bedroom,three bathroom villa situated in the heart of the Aphrodite Hill resort. It overlooks the lake on the 17
th
green of the western plateau golf course. Originally it was on the market for €1,150,000 but was gradually reduced due to the stagnant market and we were extremely fortunate to get it for €670,000!
The villa is situated in a prime position with incredible views over the golf course, close to the village square and all of the amenities on the western plateau. It's located on an 1800 sq metre plot with landscaped gardens and a large heated pool.
There's also some great local amenities including a five star hotel, a luxury spa, five restaurants, a shop, 18 hole championship golf course, tennis academy and even a football school.
Your purchase very nearly fell through at the last moment, didn't it?
Yes, it did! I would advise any person buying a property in Cyprus to be very careful using a Cypriot bank.
We were offered in principal a very competitive mortgage, we spent 5 months being credit checked by the Cypriot bank only to be told that they would offer us the money with a 46% deposit at an interest rate of 10%.
That actually happened in the final few hours of negotiation and the deal nearly collapsed – which would have cost us a lot of money as we had already put down a non-refundable deposit.
Thankfully, the UK banks came to our rescue and we didn't lose anything but we were lucky to have the equity in the UK to finance the purchase as things could have been a lot worse.
Other than that, what advice do you have for other people thinking of buying in Cyprus?
One thing for anyone thinking of buying in Cyprus to consider is the cost of water. We wanted a large garden but were unaware that water on the island is quite inhibitive cost wise. We pay around €1,200 per quarter for water which includes topping up the large pool – we didn't expect this extra cost at all so bear it in mind.
We also can't emphasise enough the importance of doing your homework prior to offer. At least try to get to grips with the various stages of the buying process and bureaucracy, as this can remove some of the stress.
Fortunately for us, we had a good agent who helped us along the way, tried their best with the banks, recommended an excellent solicitor and were honest with us throughout. We can't recommend the A Place in the Sun Live exhibitions enough either, they're a great place to meet agents/lawyers and to get free advice.
So what does the future look like for the Tobin family holiday home?
The plan is to use the house as much as we can for our holidays and to make as many memories as we can.
Other than that there will be plenty of time spent gardening, playing golf, swimming, trying local restaurants and just relaxing. Cyprus is one of the best holiday destinations that we have ever been to and we want to make the most of our time there!
Although we bought the property at the bottom of the market, we believe that we'll experience considerable capital gain in the future. Alongside any rental income to pay for the property's upkeep.
To read informaton about Accommodation in Portugal,Holiday Apartments and Accommodation Algarve,holiday rentals in albufeira portugal,apartment rental albuferia.